First Aid for Sport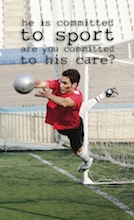 The ITC Level 6 Certificate in First Aid for Sport Exercise and Fitness is an exciting course that has been offered by MWS since January 01, 2012. The course is accredited by SQA.
The training course is delivered over 1 or two days. The first half of the training course examines life-saving first aid techniques and their application in the gym, leisure hall or playing field. E.g. using bystanders to best effect when taking charge with a collapse or cpr incident. Developing and implementing a sport specific action plan. The second half of the course looks at casualty assessment - making a cease or return to activity decision. Common injury and illness brought on by the exercise environment.
Dynamic, active, skill based training. Less than 25% of day spent passively sitting, listening to the tutor.
The ITC Activity First Aid qualification is regulated by Ofqual. it contains much of the first aid at work content applied to a leisure environment. This qualification is suitable for the person who requires specific first aid training that contains additional illness and injury content (common medical emergencies and injury) to that found on a typical one day EFAW course.

This ITC Certificate in First Aid for Sport
(4 hours) is a concise training course covering essential first aid knowledge and techniques for coaches, spectators and other involved people.